Hair Loss
With there being many types a hair loss people frequently ask themselves what is best for them to treat their hair loss. When coming in to see Dr. Mark A. Bishara the type of hair loss the patient is experiencing plays a big part in deciding between PRP injections or Hair Transplantation. Male or female pattern baldness is typically on top of the head. The hair on the back and sides its what gets transplanted on the top of the scalp being that it wont be affected by the hormones.
Although PRP can be used during hair transplantation there are patients that rather not go through Hair Transplantation surgery. PRP treatments as same as hair transplantation can be used to treat male and female pattern baldness.

The Difference….
The process of PRP treatments are considerably different from a hair transplantation surgery. At the Paragon Plastic Surgery and Med Spa the first step in PRP treatments starts with drawing the patients blood. The Blood Sample is placed in a centrifuge so that the plasma separates from other cells. The Plasma then gets drawn into a syringe and injected to the areas in the scalp that Dr. Mark A Bishara has recommended to the patient.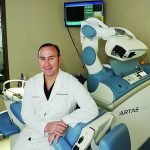 Hair Transplantation it takes more involvement from Dr. Mark A. Bishara and his surgical techs. The hairs that will be transplanted are taken from the back and sides of the head using the ARTAS Robotic system which is the preferred method by Dr. Mark A. Bishara. The follicular units removed are check for quality as Dr. Mark A. Bishara makes the new home for the new hair. The Paragon Plastic Surgery and Med Spa techs then take the follicular units are then carefully transplanted on to the sites made, making sure they are positioned in the same direction Dr. Mark A. Bishara has made the sites.

The Results
It normally takes the same time to see results for both PRP treatments and Hair Transplantation. As far as Hair transplantation the transplanted hair will shed days after surgery. Patients usually see results of new hair growing within 6 to 7 months after their hair transplantation surgery. As for PRP treatments new growth can be expected with in a few months after treatment since the plasma needs to work itself in the follicles and stimulate growth. Results vary from patient to patient but in both cases the majority of patient see results of fuller hair with in 8 months!
TO LEARN MORE ABOUT OUR PRP & HAIR TRANSPLANT SERVICES, PLEASE CONTACT US (817) 473-2120 OR EMAIL APPOINTMENTS@MARKBISHARAMD.COM TO SCHEDULE AN  APPOINTMENT.

    ,
https://markbisharamd.com/wp-content/uploads/2018/10/logo-2-300x150.png
0
0
markbisharamd
https://markbisharamd.com/wp-content/uploads/2018/10/logo-2-300x150.png
markbisharamd
2016-05-17 19:43:02
2016-05-17 19:43:02
PRP vs. HAIR TRANSPLANT