Did you know that over 50% of postmenopausal women suffer from stress urinary
incontinence and nearly 80% from vaginal atrophy, the skins natural aging process? It has
been reported that one out of every two women feels vaginal laxity and suffers from its
associated conditions. Geneveve by Viveve is the solution, and i?ll tell you why!
appointments@markbisharamd.com
There are many signs of vaginal aging such as dryness, stress urinary incontinence,
painful intercourse, a lower sex drive, decreased arousal, thinning of the vaginal wall,
loss of fullness externally, and increased vaginal infections. Geneveve addresses each
and everyone one of these conditions.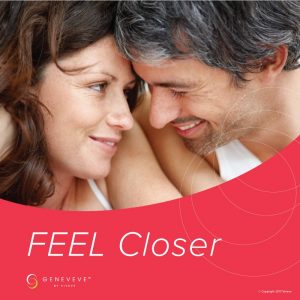 Just like the face, when collagen production is stimulated, the vaginal wall will
rejuvenate. By using a radio frequency technology we can apply energy to the vagina,
stimulating the body to produce more collagen, while cooling the surface tissue to avoid
any discomfort.
While there are some other non-surgical vaginal rejuvenation treatments on the market,
Geneveve exceeds them all and is the only procedure backed by a multi-center placebo
comparative study for the elective treatment of vaginal conditions.

appointments@markbisharamd.com

You may have heard about a particular treatment known as Ultra Femme 360 which also uses
a radio frequency technology but requires THREE treatments. This means over the course of
three weeks you must set aside about 45 minutes to an hour of your time each week to go
to your providers office for treatment to get equivalent results to our one time, easy,
30 minute Geneveve treatment! And believe it or not you?ll be saving yourself about $500!
Another well-known vaginal rejuvenation treatment on the market today is Thermiva. The
process of Thermiva is even more drawn out than the Ultra Femme in the fact that you?ll
need three separate treatments over the course of THREE MONTHS. If you chose Thermiva,
expect that you will need at least one maintenance treatment per year. Maintenance
treatments will cost you around $500-$1,000 each year after your initial cost of $3,000
for a series of three treatments.
Geneveve was born of a passion for women?s health and wellness, which goes beyond
appearance. The name Geneveve is derived from Generating New Life (Vive), and that is
what this single-session treatment can do for soft tissue. There?s no reason to suffer
anymore ladies! Geneveve can make you feel as good as you look after just one single,
half-hour treatment session!

TO LEARN MORE ABOUT OUR GENEVEVE SERVICES, PLEASE CONTACT US (817) 473-2120 OR EMAIL APPOINTMENTS@MARKBISHARAMD.COM TO SCHEDULE AN  APPOINTMENT.
   
https://markbisharamd.com/wp-content/uploads/2018/10/logo-2-300x150.png
0
0
markbisharamd
https://markbisharamd.com/wp-content/uploads/2018/10/logo-2-300x150.png
markbisharamd
2018-06-13 09:29:24
2018-06-13 09:29:24
DID YOU KNOW???