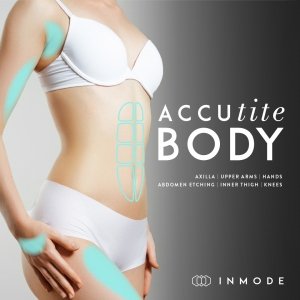 Men and women of all ages, shapes, and sizes struggle with areas of unwanted fat on both their bodies and faces. In the past, surgical procedures such as facelifts or tummy tucks were the only ways to solve this issue. With time, technology has become more advanced and options become more alternative. 10 years from now, Radio-Frequency technology will likely replace many of the surgical procedures that our Plastic Surgeons are performing with a knife today.
Let's take a look at one of the more popular body contouring options in the market today: CoolSculpting. CoolSculpting uses an older technology, Cryolipolysis, to remove areas of stubborn body fat by freezing the fat cells from specific parts of the body. While CoolSculpting is non-invasive and has ultimately no downtime, it is less customizable, and does not actually tighten the skin like some of the newer technologies offered. CoolSculpting can take up to 8-12 months to see optimal results, and candidates will typically need 2 or more 35+ minute sessions to achieve 20-25% fat reduction.
While there are other body contouring technologies out there, the new AccuTite, BodyTite and FaceTite devices are the future within minimally-invasive body contouring for patients that need precision fat reduction, skin contraction, and tissue remodeling. The AccuTite is the smallest minimally-invasive radio-frequency contraction device on the market today and can be used to shape multiple areas on the face (FaceTite) and body (BodyTite).
BodyTite & FaceTite use minimally-invasive Radio-Frequency Assisted Lypolysis (RFAL) to produce skin-tightening results while stimulating the body's own collagen production. During these procedures, fat and tissue are heated and extracted using light vacuum pressure through minimally-invasive incision sites. The skin is then tightened and remodeled to create a smoother look using the Radio-Frequency energy that is 100% concentrated at the treatment zone. 
BodyTite & FaceTite are great solutions for individuals who are looking to reduce fat and tighten skin without the downtime or visible scarring associated with other fat-reduction surgeries. The results from both BodyTite & FaceTite can be visible instantly and only require one treatment at the desired area to achieve up to 40% skin contraction, as shown in peer-reviewed clinical studies. While these procedures can be less affordable than other cosmetic options, this new technology can essentially save money in the sense that individuals can go back to work as soon as the next day. 
Dr. Mark Bishara, who completed a fellowship appointment at the world-renowned Beth Israel Deaconess Medical Center, a Harvard Medical school affiliate, gained state-of-the-art skills in body contouring after massive weight loss. Here at Paragon Plastic Surgery & MedSpa, Dr. Bishara offers minimally-invasive face and body contouring with the new BodyTite & FaceTite technologies in both of his Mansfield, Texas and Southlake, Texas locations.  
https://markbisharamd.com/wp-content/uploads/2018/10/logo-2-300x150.png
0
0
Rebecca Green
https://markbisharamd.com/wp-content/uploads/2018/10/logo-2-300x150.png
Rebecca Green
2019-06-26 17:33:07
2019-07-01 19:50:58
Coolsculpting vs BodyTite