XEOMIN® is FDA-approved and safe for use by most patients. This type of injections is made from botulinum toxin A, a therapeutic muscle-relaxing agent approved by the FDA for several different uses. XEOMIN® is injected directly into the skin of the targeted area to reduce the appearance of fine lines and wrinkles in between the eyebrows (Glabellar Lines).
JUVÉDERM® injectable gel is a smooth consistency gel capable of restoring volume to the skin and smoothing away moderate to severe facial wrinkles and folds. It is available as a safe, effective and nonsurgical option for patients who wish to improve the appearance of their skin. This product is made of hyaluronic acid, a naturally occurring substance in the skin that helps add volume and hydration.
JUVÉDERM® Ultra Plus is used to treat deeper and more severe wrinkles and folds, and provides results that last up to one year. Injections take about 15 minutes to administer and do not require any anesthesia. Patients should avoid strenuous exercise and excessive sun exposure for the first 24 hours after treatment, but can otherwise resume normal activities right away.
JUVÉDERM VOLUMA™ XC injectable gel is the first and only filler FDA-approved to instantly add volume to the cheek area. It gives you a subtle lift, helping to restore contour and a more youthful profile, for up to 2 years, in patients over the age of 21. It's different than JUVÉDERM® XC and works on a different area of the face. JUVÉDERM® XC smoothes out moderate to severe wrinkles and folds around the nose and mouth, like parentheses. JUVÉDERM VOLUMA™ XC, however, adds volume to the cheek area.
JUVÉDERM VOLLURE™ XC softens moderate to severe parentheses lines and wrinkles by adding volume to the lines and wrinkles around your nose and mouth to produce subtle and long-lasting results for up to 18 months.  Over time, your skin loses elasticity, which contributes to moderate to severe parentheses lines and wrinkles around the nose and mouth. While serums and creams work on the skin's surface,  JUVÉDERM VOLLURE™ XC adds volume to smooth these lines and folds, to help give you the subtle, long-lasting results you want.
Bellafill is the only dermal filler that stimulates collagen growth long term to help maintain your youthful appearance for up to 5 years. Now, you can look your best without wasting time and money on frequent filler injections.
Bellafill's tiny, polymethyl methacrylate (PMMA) microspheres are suspended within a base of smooth collagen gel. Once injected, the collagen gel immediately reduces the look of smile lines. Over time, your body uses the microspheres in Bellafill to create a "scaffold" onto which your own natural collagen can develop. This collagen forms a foundation that adds volume to wrinkles, reducing their appearance – and giving you natural-looking results that feel soft and smooth for up to 5 years.
Radiesse® is a synthetic injectable filler that has been approved by the FDA to reduce moderate to severe wrinkles, folds and creases around the nose and mouth by stimulating the natural production of collagen in the skin. This product is made of microspheres composed of calcium hydroxylapatite within a water-based gel and is made from minerals similar to what makes up our bones. Radiesse can be injected directly into the skin with no need for pre-testing.
Radiesse® is most effective in reducing the appearance of smile lines, nasolabial folds, marionette lines and other wrinkles around the nose and mouth. The results of this procedure are visible immediately after the injection and can last for up to a year or even longer.With continued treatment, patients will require fewer and fewer injections.
BELOTERO BALANCE® is a prescription injection that is approved to temporarily smooth out and fill in moderate-to-severe nasolabial folds (the folds or wrinkles that go from the side of the nose to the corner of the mouth).
One of the most important factors in choosing a filler treatment is understanding how it works. Over time, our skin begins to lose naturally occurring components such as collagen, elastin, and hyaluronic acid (HA), leaving skin more prone to develop etched-in lines and wrinkles.
BELOTERO BALANCE® is a hyaluronic acid (HA) injectable filler that completely integrates into the skin tissue. While some fillers are designed to rebuild facial volume and structure, BELOTERO BALANCE specifically treats moderate-to-severe etched-in lines and wrinkles such as vertical lip lines above and around the lips.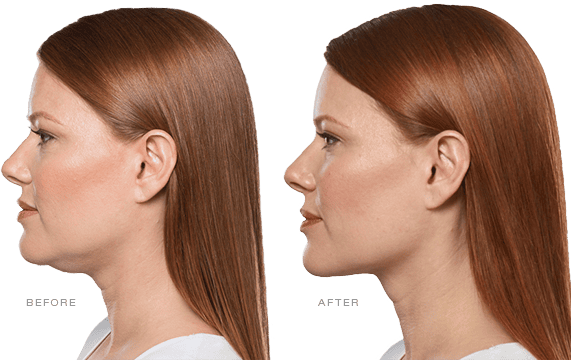 KYBELLA® is the only FDA-approved injectable treatment that destroys fat cells in the treatment area under the chin to improve your profile. KYBELLA® may be right for you if:
You're bothered (unhappy, self-conscious, embarrassed) by fat under the chin, also known as submental fullness
You feel the condition makes you look older or heavier than you actually are
You don't want to have surgery
You eat well and exercise, but submental fullness does not go away
SPIDER VEIN TREATMENT / VARICOSE VEIN TREATMENT
Spider veins are visible red or blue blood vessels that spread like a web across the skin, commonly on the face and legs. They are not usually harmful but they can be painful.
Varicose veins can indicate poor vascular health if the swelling is caused by phlebitis (inflamed tender vein), thrombosis (clot), or venous stasis ulcers (open sores).
It is not entirely known what causes spider and varicose veins, although likely factors are heredity, pregnancy and hormones. Women are more likely than men to develop problems — more than 20 percent of women suffer from mild to severe varicose veins.
The standard treatment for spider and varicose veins is sclerotherapy. A special solution is injected into the blood vessel, which then collapses and is absorbed by the body. Alternative treatments include laser or intense pulsed light therapy, surgical stripping and ambulatory phlebectomy.
Spider and varicose veins may be prevented by wearing sunscreen on the face, exercising regularly, controlling your weight, elevating legs when resting, not crossing the legs when sitting, avoiding long periods of standing, wearing elastic support stockings, and eating high-fiber foods.
Additional Procedures
In addition to the dermal filler services listed above, Dr. Bishara also performs many other minimally invasive cosmetic procedures that allow patients to enhance their appearance with less scarring, less pain and shorter recovery times. These procedures utilize the most advanced technologies to offer patients effective results without the hassle of traditional surgery.
Some of Dr. Bishara's minimally invasive procedures include: laser liposuction, endoscopic brow lift, mini tummy tuck, mini facelift, mini neck lift, and mild and medium chemical peels. We encourage you to call us today and schedule a consultation with Dr. Bishara to find out if minimally invasive surgery is right for you.