2013 Awards: Youth Preservers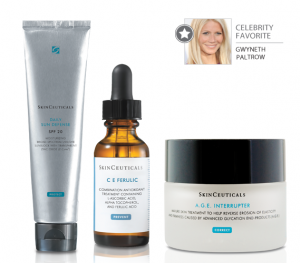 The Best Supercharged Antioxidant-Based Line is SkinCeuticals.  And Dr. Mark Bishara and The Paragon Plastic Surgery & Med Spa offer the SkinCeuticals line in both of our office locations.









What does an antioxidant do for my skin?






Antioxidants provide protection from free radicals that cause damage deep within the skin. Unlike sunscreens that protect skin from UV rays, antioxidants prevent skin damage caused by other environmental aggressors such as infrared radiation, pollution, cigarette smoke, alcohol, and more. SkinCeuticals antioxidants have also been proven to reverse skin damage, including fine lines, wrinkles, and hyperpigmentation.


Why are SkinCeuticals products different?
SkinCeuticals products are backed by science from the first stages of their development through the packaging of the final formulations. Extensive medical-grade clinical testing that proves our products' efficacy sets SkinCeuticals apart from other cosmeceutical brands on the market. One of the first lines to employ antioxidants, the premise of this science-heavy brand is to prevent, protect and correct from the 
outside in.
Please call our office at (817) 473-2120 and set up a skin care consultation with one of our aestheticians.  They can tell you which SkinCeuticals products will be best for your skin.
https://markbisharamd.com/wp-content/uploads/2018/10/logo-2-300x150.png
0
0
markbisharamd
https://markbisharamd.com/wp-content/uploads/2018/10/logo-2-300x150.png
markbisharamd
2014-02-11 17:34:22
2014-02-11 17:34:22
The Best Supercharged Antioxidant-Based Line is SkinCeuticals