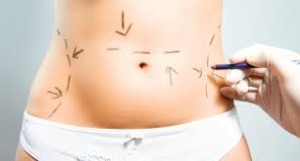 A flat and well-toned abdomen is something many of us strive for through exercise and weight control. Sometimes these methods cannot achieve our goals.
Even individuals of otherwise normal body weight and proportion can develop an abdomen that protrudes or is loose and sagging. The most common causes of this include:
Pregnancy
Aging
Significant fluctuations in weight
Heredity
Prior surgery
What a tummy tuck won't do:
Tummy tucks are not a substitute for weight loss or an appropriate exercise program. Also, tummy tuck operations cannot correct stretch marks, although these may be removed or somewhat improved if they are located on the areas of excess skin that will be excised, generally the treated areas below the belly button.

Tummy tuck words to know
Abdominoplasty/Tummy Tuck A surgical procedure to correct the apron of excess skin hanging over your abdomen.
Diastasis: Condition in which abdominal muscles have separated.
General anesthesia: Drugs and/or gases used during an operation to relieve pain and alter consciousness
Intravenous sedation: Sedatives administered by injection into a vein to help you relax.
Liposuction: Also called lipoplasty or suction lipectomy, this procedure vacuums out fat from beneath the skin's surface to reduce fullness.
Local anesthesia: A drug is injected directly to the site of an incision during an operation to relieve pain.
Sutures: Stitches used by surgeons to hold skin and tissue together.
Dr. Bishara provides a wide range of cosmetic procedures to help patients look and feel their best. Please call our office at (817) 473-2120 for for information on tummy tucks, liposuction or many other cosmetic surgeries.  You can also visit our website at www.MarkBisharaMD.com for further information.

https://markbisharamd.com/wp-content/uploads/2018/10/logo-2-300x150.png
0
0
markbisharamd
https://markbisharamd.com/wp-content/uploads/2018/10/logo-2-300x150.png
markbisharamd
2014-02-18 10:29:29
2014-02-18 10:29:29
Tummy Tuck/Abdominoplasty