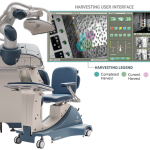 RFUE!
As we know hair transplantation is getting extremely popular. Who wouldn't want a head full of hair? Baldness in the 21st century is now a choice…. there are many forms of hair transplantation. Dr. Mark A. Bishara has been performing hundreds and hundreds of hair transplants at the Paragon Plastic Surgery and Med Spa using the best method, ARTAS Robotic Follicular Unit Extraction.

Yes, that means No Linear scarring!
The most common form of hair transplantation has been the FUT (follicular unit transplantation), but who wants ugly scars? Avoid that linear scar by opting to robotic FUE. It is less painful and definitely cuts down on the recovery process. Opting robotic FUE will give you the opportunity to style your hair with out having to worry about a scar showing. Dr. Mark A. Bishara can give you all the scoop on robotic FUE when coming in for your consultation at the Paragon Plastic Surgery and Med Spa!

FDA Cleared!
Dr. Mark A. Bishara uses the Artas Robot for hair transplantation. I know, i know your thinking a robot? Robotic technology has come a long way changing the way medicine is practiced. Robotics have been used to perform other major surgeries such as heart valve, bypass, and even kidney and prostate. So why not for hair! Artas Robot is a FDA cleared device that offers the most precise method for FUE!

How it is done
During an Artas Robotic hair transplant the staff at the Paragon Plastic Surgery and Med Spa trims the patients hair down in order for the robot to detect the targeted follicular units that are going to be extracted. The patient is placed in prone position and a skin tensioner is placed on the patients donor area to stabalize the skin for accurate tracking and dissecting of the hair. When completed with the dissection Dr. Mark A. Bishara makes the recepient sites for the new hair. Shortly after The Paragon Plastic surgery and Med Spa staff begin the manual transplantation.

TO LEARN MORE ABOUT OUR ROBOTIC FUE   SERVICES, PLEASE CONTACT US (817) 473-2120 OR EMAIL APPOINTMENTS@MARKBISHARAMD.COM TO SCHEDULE AN  APPOINTMENT.

   


https://markbisharamd.com/wp-content/uploads/2018/10/logo-2-300x150.png
0
0
markbisharamd
https://markbisharamd.com/wp-content/uploads/2018/10/logo-2-300x150.png
markbisharamd
2016-05-31 11:58:26
2016-05-31 11:58:26
Robotic FUE