Platelet Rich Plasma therapy — or PRP Available in the Office of dr. mark bishara
Nov 10, 2014, 11:05 AM ET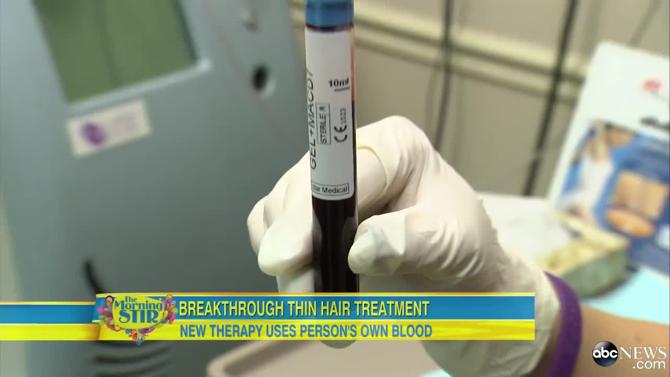 A new hair-loss treatment is giving hope to millions of people with thinning hair.
The treatment, called Platelet Rich Plasma therapy — or PRP — could help regrow and thicken hair without surgery, drugs or expensive treatments.
PRP relies on the patient's own platelets. The patient's blood is drawn and placed in a machine, where the plasma is separated from the blood and injected directly into that patient's scalp.
The platelets contain growth factors that stimulate the regrowth and thickening of hair follicles.
Eyebrow Transplants Enhance Fullness in Thinning Brows
"This is the best kept secret in the world," Dr. Jeffrey Rapaport, a New Jersey dermatologist, told ABC News.
Tanisha Jimenez has used PRP and she says it has worked for her.
Jimenez said that years of pulling her hair back caused her to lose some around her face. Just weeks after her first treatment, her hair started to regrow, she said.
"It's amazing," she said.
Rapaport noted, though, that this isn't considered a cure for 
baldness
.
"It's a treatment … What we're doing is increasing the diameter of the size of the hair follicle," he said. "And we're keeping the hairs that would stop growing in the growing phase."
The best candidate for PRP is someone who has recently started losing hair, Rapaport said. It won't work for those who are completely bald, and it won't regrow all the lost hair, he said.
The entire process, including the injection, takes about 90 minutes.
Rapaport recommends one treatment per month for the first four months and then two maintenance treatments per year. Some doctors add other hair-growth medications to the mix
THIS INFORMATION IS BROUGHT TO YOU COURTESY OF DR. BISHARA AND THE PARAGON PLASTIC SURGERY & MED SPA
En Espanol
PLASMA RICO EN PLAQUETAS TERAPIA – O PRP DISPONIBLES EN LA OFICINA DEL DR. MARCA BISHARA
10 de noviembre 2014, 11:05 AM ETABC News a través de Good Morning America
Un nuevo tratamiento de pérdida de cabello está dando esperanza a millones de personas con el adelgazamiento del cabello.
El tratamiento, llamado terapia de plasma rico en plaquetas – o PRP – podría ayudar a crecer y engrosar el cabello sin cirugía, medicamentos o tratamientos costosos.
PRP se basa en las propias plaquetas del paciente. La sangre del paciente se extrae y se coloca en una máquina, en donde se separa el plasma de la sangre y se inyecta directamente en el cuero cabelludo de ese paciente.
Las plaquetas contienen factores de crecimiento que estimulan el nuevo crecimiento y engrosamiento de los folículos pilosos.
Cejas Trasplantes Mejorar Plenitud en Adelgazamiento cejas
"Este es el secreto mejor guardado del mundo", el Dr. Jeffrey Rapaport, un dermatólogo de Nueva Jersey, dijo a ABC News.
Tanisha Jiménez ha utilizado PRP y ella dice que ha trabajado para ella.
Jiménez dijo que los años de tira de su pelo hacia atrás le hizo perder algo de alrededor de su cara. Apenas unas semanas después de su primer tratamiento, su cabello comenzó a crecer de nuevo, dijo.
"Es increíble", dijo.
Rapaport señalar, sin embargo, que esto no se considera una cura para la calvicie.
"Es un tratamiento … Lo que estamos haciendo es aumentar el diámetro del tamaño del folículo piloso", dijo. "Y estamos cumpliendo con los pelos que dejaría de crecer en la fase de crecimiento."
El mejor candidato para PRP es alguien que ha comenzado recientemente la pérdida de cabello, dijo Rapaport. No funcionará para aquellos que son completamente calvo, y no va a volver a crecer todo el cabello perdido, dijo.
Todo el proceso, incluyendo la inyección, tarda unos 90 minutos.
Rapaport recomienda un tratamiento por mes durante los primeros cuatro meses y luego dos tratamientos de mantenimiento por año. Algunos médicos añaden otros medicamentos crecimiento del cabello a la mezcla
ESTA INFORMACIÓN ES PRESENTADO CORTESÍA DEL DR. BISHARA Y LA CIRUGÍA PLÁSTICA Y PARAGON MED SPA
https://markbisharamd.com/wp-content/uploads/2018/10/logo-2-300x150.png
0
0
markbisharamd
https://markbisharamd.com/wp-content/uploads/2018/10/logo-2-300x150.png
markbisharamd
2014-11-10 20:33:14
2014-11-10 20:33:14
NEW TREATMENT PROMISES TO REGROW THINNING HAIR WITHOUT SURGERY, DRUGS