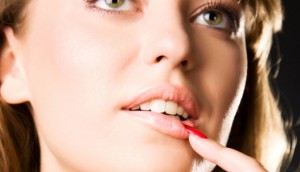 Hyaluronic acid occurs naturally in the body, so Dr. Bishara overwhelmingly recommends hyaluronic acid fillers-such as Restylane or Juvederm-to augment the lips.
In addition to augmenting your lips, if you want to reduce facial wrinkles and lines, hyaluronic acid may be a good choice as a dermal filler because of its compatibility with the human body. In fact, this substance is found in almost every single living thing. In humans, it acts as a network that transfers essential nutrients from the bloodstream to skin cells.
When this gel is injected, it acts like an inflated cushion to support facial structures and tissues that may have lost volume or elasticity due to normal aging. It also brings water to the surface of skin to keep it looking fresh and supple.
Studies have also revealed that these fillers may stimulate surrounding collagen cells to produce even more collagen, resulting in a longer-lasting fill.
After your Juvederm treatment, expect your lips to feel full and a little tight. Your improved pout will feel different for the first few days. Swelling, redness or bruising should dissipate within a week.
Please visit our website at www.MarkBisharaMD.com for more information on Botox injections, and fillers such as Juvederm Ultra Plus XC and the NEW FDA approved Juvederm Voluma.  You can also call our office at (817) 473-2120 for questions regarding hyaluronic acid fillers.
https://markbisharamd.com/wp-content/uploads/2018/10/logo-2-300x150.png
0
0
markbisharamd
https://markbisharamd.com/wp-content/uploads/2018/10/logo-2-300x150.png
markbisharamd
2014-01-27 18:00:00
2014-01-27 18:00:00
What is Hyaluronic Acid