CoolSculpting is an FDA-approved procedure from Zeltiq that delivers controlled cooling energy to freeze fat cells via a process called cryolipolysis. A suction-based applicator draws both the skin and underlying subcutaneous (fat) tissue into the handpiece, delivering cooling energy which over the course of the treatment freezes and crystallizes the fat cells. Since suction is used to draw the adipose tissue into the applicator, you must have pinchable fat in order to benefit from the treatment. Someone with a very small problem area may not be a candidate for this procedure.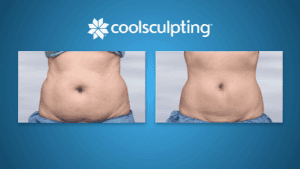 Following treatment, which takes approximately 1 hour per area, the applicator is removed, leaving what is often referred to as a  "stick of butter" as the area has taken the shape of the applicator. The area is then massaged to break and fragment the crystallized fat cells. The damaged fat cells are filtered and eliminated from the body over the course of the following few months. Many people ask us how CoolSculpting is able to freeze the fat cells and without damaging the skin? This is because fat is more sensitive to temperature than skin, so the fat cells freeze before the skin freezes. CoolSculpting is a non-invasive procedure that offers permanent results.
There is some mild discomfort associated with this procedure. Patients have reported discomfort with the suction applicator and during the freezing process, but most report that the area becomes numb a few minutes into the treatment. After the procedure has been completed, it is common to have soreness and bruising. You may also experience tingling or a burning sensation in the area once the nerves in the treated area awaken. Recovery really depends on the person, but it is marketed as a no down-time procedure. The need for several treatments is common with most non-invasive fat reduction procedures, including CoolSculpting. It is important to remember that results are not instant and it can take weeks or even months to see any change.
Cynosure's SculpSure is an FDA-approved non-invasive, laser lipolysis treatment to reduce fat. It is the latest and most advanced non-invasive fat reduction method available in the United States. This technology uses precise hyperthermic energy, or in layman's terms- heat-  to target and eliminate fat cells using a 1060nm Diode laser. Once heated, the injured fat cells are ejected from the adipose tissue. These ejected and damaged fat cells are filtered out by the body over the course of several weeks and months. During treatment, the skin is cooled for protection and comfort.
The fact that fat heats up faster than it freezes allows the SculpSure treatment to take a fraction of the time than that of CoolSculpting. The SculpSure device has four laser applicators that lay flat on the skin, so there is no uncomfortable suction involved.


Additionally, because the applicators lay flat on the skin, SculpSure can treat smaller problem areas (you don't have to have pinchable fat to be treated). These applicators can also treat a larger surface area. It takes twenty-five minutes, versus 45 minutes to an hour, to utilize the four applicators. The number of applicators needed will depend on the areas you are having treated. Patients have reported feeling sensations of warmth, tingling or mild cramping during treatment. Overall, the SculpSure procedure is well tolerated by patients and the abbreviated treatment time is significant.
Following SculpSure treatment you may have some mild tenderness in the area, but no pain or bruising has been reported. You are able to return to normal activity immediately. Several treatments may be necessary to achieve the best results. Similar to CoolSculpting, results with SculpSure are not instant and it does take weeks or even months to see a reduction in the treated area. The results are permanent. Cynosure's SculpSure reports up to a 24% fat reduction in the treatment area per treatment. In addition, a benefit of SculpSure is that it boasts skin tightening as an added bonus, which is unique to laser therapies and cannot be achieved via cryolipolysis or CoolSculpting.
Both treatments are considered to be viable options for non-invasive fat reduction, offering significant, long-term effects. It is always recommended for you to research the available treatment option in order to choose which procedure is right for you. If you're truly interested in a non-invasive procedure to help reduce fat, choose Paragon Plastic Surgery and Med Spa in Mansfield, TX as a partner in reaching your body contouring goals.
To request a personal consultation with Dr. Mark Bishara, call us at Paragon Plastic Surgery & Medspa at (817) 473-2120 or complete our online contact form today.
https://markbisharamd.com/wp-content/uploads/2018/10/logo-2-300x150.png
0
0
markbisharamd
https://markbisharamd.com/wp-content/uploads/2018/10/logo-2-300x150.png
markbisharamd
2017-10-23 12:43:09
2017-10-23 12:43:09
CoolSculpting vs. SculpSure: Paragon Plastic Surgery & Med Spa in Mansfield, TX Gives You the Skinny.