Do you want to look younger, longer?…………….If you want to keep the hands of time from ticking, it's critical to wear sunscreen around your eyes to slow down all the telltale signs of aging in this area. The effects of sun exposure can contribute to the formation and worsening of wrinkles, dark circles and puffiness. And yet even the most dedicated SPF wearers often miss this super-important spot.
According to the Skin Cancer Foundation, eyelids are a common site for skin cancer, with five to 10 percent of all basal cell carcinoma, squamous cell carcinoma and melanoma occurring here. Since lids contain so little tissue, skin cancer spreads faster here than in other areas.
Now, I understand that it's common for people to neglect sunscreen application around the eyes because it can cause stinging in many cases. But it doesn't have to! Here's how to protect your eyes effortlessly.
Use an eye cream with SPF built in, this way you can work it seamlessly into your morning routine. And since it's formulated for the eye area, it's designed to stay put and not run into your eyes, which can cause stinging.
Try SkinCeuticals Physical Eye UV Defense-spf50- Delivering a new standard in eye care, this ophthalmologist-tested sunscreen defends, enhances, and optimizes the entire eye area, including the eye lid. Formulated specifically for the unique structure of the thinner and more sensitive skin around the eye, Physical Eye UV Defense provides broad spectrum SPF 50 protection without migrating into and irritating the eyes. A unifying tint enhances skin tone while ceramides nourish, creating a smooth, optimal canvas for makeup application.
100% mineral base, broad spectrum UVA/UVB protection.
Non-migrating formula prevents irritation of the eye.
Sheer, universal tint suitable for all skin types, unifies natural skin tone around the eye.
Proven safe for use from the brow bone to the cheek bone, even on the eye lid.
Nourishes thin, delicate skin around the eye.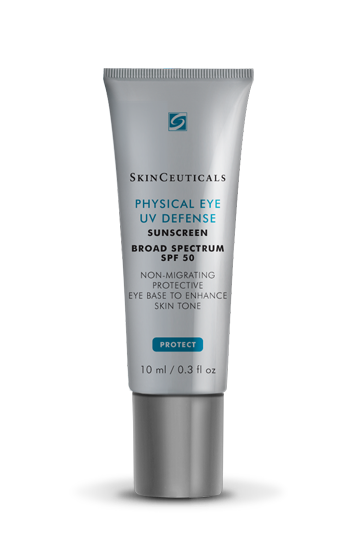 Look for sunglasses that are labeled with UVA/UVB protection, and wear them as an extra buffer to your sunscreen. Just keep in mind that while good shades do provide a lot of protection, it's still not enough alone. Routinely wearing sunglasses outside will also prevent you from squinting, which is a notorious cause of wrinkling around the eyes. Plus, you'll look glamorous.
By taking a moment to care for the skin around your eyes daily, you can enjoy the wisdom that comes with age instead of premature wrinkles!
Please contact our office at (817) 473-2120 to order the SkinCeuticals Physical Eye UV Defense today and keep protected this summer and year round.
This Information is brought to you courtesy of Dr. Bishara and The Paragon Plastic Surgery and Med Spa
https://markbisharamd.com/wp-content/uploads/2018/10/logo-2-300x150.png
0
0
markbisharamd
https://markbisharamd.com/wp-content/uploads/2018/10/logo-2-300x150.png
markbisharamd
2014-06-05 13:19:04
2014-06-05 13:19:04
Keep Crow's Feet Away