If you have previously undergone a hair transplant and are unsatisfied with your results, we can help you achieve the results you had hoped for through hair restoration revision surgery with the ARTAS System. Unsuccessful, unfavorable outcomes from hair transplant surgery often occur because of technical errors, poor planning on the part of the doctor, and unforeseeable complications.  For the very latest technology in hair restoration, Dr. Mark Bishara is now using the ARTAS System. This interactive, computer assisted equipment employs image guidance to enhance the quality of hair follicle harvesting. ARTAS is the first hair transplant robot to improve the most challenging aspects of Follicular Unit Extraction (FUE).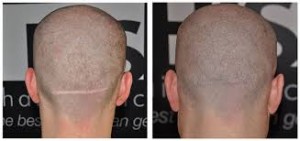 Technical Errors and Complications
If your scalp has a plugged, tightened, cobblestone, or ridged appearance, we can dramatically improve your results using the ARTAS system. Technical errors generally occur when a specialist uses sub-standard transplantation techniques. When hair follicles are placed at incorrect angles or inappropriate depths, the newly transplanted hair will grow in the wrong directions and each transplant will look unnatural and pitted.
Poor Doctor Planning
In some cases, an underqualified, inexperienced doctor can be to blame for an unsatisfying result following hair loss surgery. If your surgeon isn't properly prepared for surgery, not only can he or she damage your healthy hair follicles, but he or she can prematurely deplete your supply of available, transplantable donor hair prior to the completion of treatment. Planning of the positioning of the hairline using donor hair is a precautionary step that must be carefully performed at the beginning of the surgical process. During this stage, your doctor should anticipate future hair loss and allocate available hair follicles to be placed in the appropriate areas.
Benefits of Hair Restoration Revision Surgery
During hair restoration revision surgery, we can:
Improve the aesthetic of your scalp, hairline, and hair
Improve botched hair
Conceal scaring that was a result of a former surgery
Create a single linear scar that masks multiple incisions that were previously made during your former surgery
Extract existing follicles that were miss-placed by your former surgeon
Implant new, healthy hair follicles
Alleviate the discomfort of a tightened scalp and scar tissue
This physician-controlled, state-of-the-art ARTAS system enables the harvesting of hair follicles during hair restoration procedures. It offers numerous beneficial features, including an image-guided robotic arm, special imaging technologies, small dermal punches and a computer interface. The ARTAS System is capable of identifying and harvesting individual follicular units to implement the FUE technique. The device, guided by cameras and 3-D imaging software, can perform the dissection of hair follicles individually at a rate of up to 1,000 per hour.  We have an ARTAS robot in each of our offices in Mansfield and Southlake.  The procedure is done in office and requires no downtime- most patients are back to work the next day.

Contact Dr. Mark Bishara's Office for Hair Restoration
We ensure you will have a quality, satisfying experience when you receive treatment. Whether you are in need of hair restoration revision surgery or subsequent restoration procedures, our team is here to help you achieve the results you are looking for and natural hair your want. Don't let an unsatisfying outcome keep you from looking and feeling your best. Contact us today at (817) 473-2120!
www.MarkBisharaMD.com

https://markbisharamd.com/wp-content/uploads/2018/10/logo-2-300x150.png
0
0
markbisharamd
https://markbisharamd.com/wp-content/uploads/2018/10/logo-2-300x150.png
markbisharamd
2013-12-31 17:18:17
2013-12-31 17:18:17
What Happens When My Hair Surgery Leaves an Unsightly Scar?