Plastic Surgery Procedures (Body Contouring) After Weight Loss
Most patients who undergo gastric bypass, or some form of gastric banding procedure, do lose weight. Many lose a lot of weight. But this massive weight loss brings problems of its own.
Typically patients are left with large folds of excess skin, along with loose muscles and sometimes localized pockets of unsightly fat tissue. In such cases, bariatric plastic surgery procedures, body contouring procedures and lipoplasty (liposuction), can help to reshape the normal structures of the body in order to improve appearance and self-esteem.
Plastic surgery is not an easy option. Mostly, it involves exchanging one cosmetic problem (eg. loose skin) for another (scars).
Plastic Surgery Procedures to Remove Loose Skin and Fat
For patients suffering from morbid or malignant obesity, choosing bariatric surgery to reduce calorie intake may offer them a passport to a healthy life. But even if such surgery causes them to lose substantial amounts of weight, they may face new problems which may necessitate further operations.
Plastic Surgery to Remove Loose Skin
When bariatric surgery (eg. gastric bypass) leads to dramatic weight loss, excessive amounts of skin can accumulate and hang in various areas, including face, neck, breasts, upper and lower abdomen, flanks, armpit, back, buttocks, arms, forearms, thighs, legs, and calves. This surplus skin can cause considerable hygienic problems, skin irritation, skin breakdown, pain and infection.
Plastic Surgery Procedures to Remove Excess Residual Fat
In addition, even though the patient might have experienced massive weight reduction, this weight loss may not be evenly spread around the body. This also depends on the patient's type of obesity condition (whether gynoid or android). Body Contouring procedures can help to reduce these fat deposits, either by surgical excision or lipoplasty.
Cost of Plastic Surgery Procedures
The price of bariatric-related plastic surgery procedures can vary significantly, depending on several factors.
Patient's condition
Complicating factors
The plastic surgeon
The hospital chosen
The type of anesthesia
Complications arising
Patient's Needs
The full cost of your plastic surgery procedure is unlikely to become clear until after you have been examined by your surgeon, and your individual requirements and needs ascertained. Even then, you may need follow-up procedures after your plastic surgery.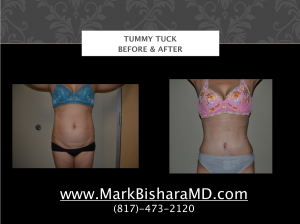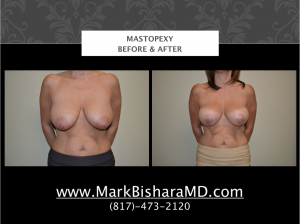 Body Contouring Surgery Options
Abdominoplasty (tummy tuck)
Arm Lift (brachioplasty)
Body lift (Circumferential Panniculectomy)
Breast Lift (Mastopexy)
Breast Reduction (Women)
Buttock Lift
Face Lift
Forehead Lift
Male Breast Reduction (Gynecomastia)
Liposuction (Lipoplasty)
Thigh lift (Thighplasty)
Dr. Bishara will discuss these and other treatment options with you during your consultation to determine which procedures are right for you. Our  treatment plan is specifically designed for patients who have recently undergone bariatric surgery and are left with loose, sagging skin as a result of the extreme weight loss. Please call our office at (817) 473-2120 for more information or to schedule a consultation or visit our website at www.MarkBisharaMD.com for more pictures of body contouring patients.
https://markbisharamd.com/wp-content/uploads/2018/10/logo-2-300x150.png
0
0
markbisharamd
https://markbisharamd.com/wp-content/uploads/2018/10/logo-2-300x150.png
markbisharamd
2014-01-09 10:45:54
2019-05-13 19:01:18
Body Contouring After Weight Loss Surgery