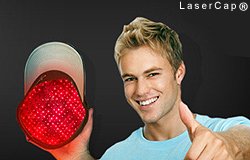 The low- level laser therapy treatment is also known as "The Cold Laser". The laser light generated by low-powered (cold) lasers has recently come into use as a non-surgical hair restoration treatment for patten hair loss.
Laser Hair Therapy is a non-chemical and non-invasive treatment being used around the United States of hair loss.  Like other treatments (such as Propecia and Minoxidil) some patients tend to respond better than others.  Laser therapy has been proven to have the best results when combined with other medical therapies such as Propecia, minoxidil or finasteride.  Patients that have more hair tend to have better results.  Men and women both are seeing great hair response to these treatments.
"Once viewed with skepticism by some in the medical community, low-level laser therapy has since proven itself to be a safe
and highly effective treatment for male and female pattern hair loss." Dr. Alan J. Bauman
Many patients experience significant improvement and report benefits such as:
Reduction of excessive hair loss
Improvement of hair shaft quality
Repair of damaged hair follicles
Thicker, easier-to-manage hair
Reduction of excess oil production in the scalp
Relief from itchy scalp symptoms
Low Level Light Therapy is a great treatment that can be used also have a hair transplant.  The treatment cost is $3500 for 48 treatments.  Please call our office for more information at (817) 473-2120 or visit our website at www.MarkBisharaMD.com.

https://markbisharamd.com/wp-content/uploads/2018/10/logo-2-300x150.png
0
0
markbisharamd
https://markbisharamd.com/wp-content/uploads/2018/10/logo-2-300x150.png
markbisharamd
2014-04-10 14:05:34
2014-04-10 14:05:34
Low Level Light Therapy