What is Radiesse?
Radiesse is a synthetic gel wrinkle filler used to plump up your skin. Using a small insulin size needle Radiesse is injected under the skin.
Should I use Radiesse?
Radiesse is not intended if for you if you are allergic to any ingredient of Radiesse. Radiesse is not for you, if you desire only a short term augmentation.


How does Radiesse work?
Once injected under the skin, the works by adding volume under the skin. With time Radiesse has the benefit of continuing to stimulate your own body's collagen.
Do Radiesse injections hurt?
As with any injection, Radiesse injections may hurt. Radiesse is injected with a very small fine needle and the doctor uses topical or local anesthetic to ease any discomfort.
How long does Radiesse last?
Radiesse effect differs in every person, but results have shown to last up to one year or more in each patient.
How many treatments are required?
During consultation your doctor will decide the number of treatment sessions and the amount of Radiesse you will need each session. Although significant augmentation may be achieved in the first treatment, a touch up may be required to get optimal results. Periodic future touch up treatment may be needed as well.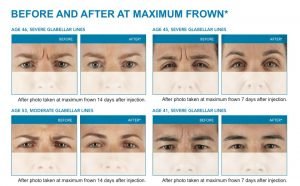 How often are Radiesse treatments given?
Depending on the desires and volume of treatment required the doctor will decide how often the Radiesse treatments will be needed.
What are possible side effect with Radiesse?
The most common side effect after treatment are redness, bruising, and occasionally some swelling. The effects are mild and tend to last for a short time. An ice pack may be used to help reduce any bruising or swelling.
Can i go back to work after a Radiesse injections?
Yes, in fact most patients feel comfortable to return to normal activities right after Radiesse treatment.
Could my current medication interfere Radiesse injections?
You should definitely inform your doctor about any prescription or over the counter medications you are taking. If you are taking any blood thinners such as aspirin or any medications that interfere with blood clotting, you are more likely to have bruising or bleeding at the injection site.

TO LEARN MORE ABOUT OUR RADIESSE TREATMENTS, PLEASE CONTACT US (817) 473-2120 OR EMAIL APPOINTMENTS@MARKBISHARAMD.COM TO SCHEDULE AN  APPOINTMENT.

, , , TYLER, TROPHY CLUB, ROANOKE, WESTLAKE, FRISCO, PLANO, FLOWER MOUND,   
https://markbisharamd.com/wp-content/uploads/2018/10/logo-2-300x150.png
0
0
markbisharamd
https://markbisharamd.com/wp-content/uploads/2018/10/logo-2-300x150.png
markbisharamd
2016-05-12 14:44:12
2016-05-12 14:44:12
10 FAQ's about Radiesse