"so fresh and so clean clean"
Clean your house and tidy up before having your breast augmentation surgery with Mark A. Bishara, M.D. P.A. and his staff at The Paragon Plastic Surgery and Med Spa because we will be joining you for dinner! No, we won't be joining you for dinner (unless you insist). We recommend cleaning your house before surgery because coming home to a dirty dishevelled house is not relaxing. Create your own serene environment, whatever that may entail, it doesn't matter as long as you will be able to recover and relax. Nothing beats snuggling up in bed with fresh clean sheets!
Nightstand Necessities
For those that don't know CVS and most other drug stores have a wall of one dollar priced items that are travel size. Use this wall to your advantage and stock up on little things that we usually keep in our purse or car. Think of all the items that you use on a daily basis and put them right in arms reach on the nightstand. Such items could include your favorite lip balms, lotions, gum or mints, tissues, water (for the adventurous – water with cucumber, lemon and mint leaves), tv remote, baby wipes to freshen up, smart phone, charger, magazines and books (self help books could be great, we all need some improvement)! FreeImages.com/RicardoVasquez.
Right In Arms Reach
Before breast augmentation surgery go around the house and see what you reach for on a daily or weekly basis. Keep your arms to your sides and see if you can still reach it, if the item is too high and your have to lift your arms up relatively high move it to a lower place. After surgery you won't want to be raising your arms up over your head. So, pretend to make dinner or get ready for the day and bring those items to you!
"Plump" up the volume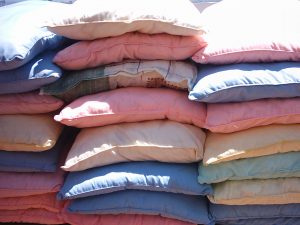 Body pillows are available at most stores like Kohls or Target. Get a couple of these body pillows to have on both sides of you to prop up those arms (soft fuzzy pillow cases are available for these). In addition to those, prop a few regular pillows behind you or get a wedge type of pillow to help you sit at a 45 degree angle. Sitting at this angle and propping your arms up will help with bruising. FreeImages.com/Mdmartian.
Cocoa Butter
Once you have the clear all after your breast augmentation surgery to take showers, your skin will be tighter than usual and could start itching if you aren't moisturizing properly. Be careful not to get the cocoa butter/moisturizing lotion of your choice near the incisions but you can apply this to the surrounding areas to help with the tightness and itching.
Child Care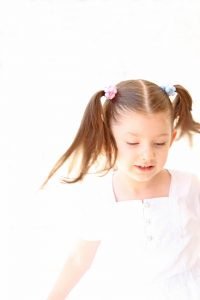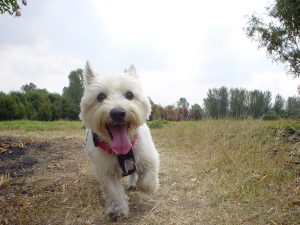 Dr. Mark A. Bishara, M.D. P.A. and his staff at The Paragon Plastic Surgery and Med Spa have special places in their hearts for kids and animals of all kinds so we want to be sure their taken care of! If child care entails picking your daughter/son up from school, taking them to practice and stopping for a quick bite on the way home make sure that someone will be able to take care of these for a little while. It can take as much as two weeks before driving will feel comfortable again. Also, if child care is taking your hyper dog for an afternoon run/walk be sure to have someone do this until you fully recover. Walking should be fine after a couple weeks. Be careful holding the leash if your little guy/girl likes to pull! FreeImages.com/MehmetGoren. FreeImages.com/DanMitchell.
Food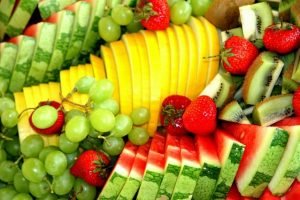 Very important topic for all of you fellow foodies! Make your meals ahead of time and store these away in the freezer (in a easy to reach place not above your head) so that you can easily reheat them. Little snack foods throughout the day are best. For the later weeks, stock up on the easy to cook favorites that you can do in your sleep (figuratively of course). Or, have your favorite delivery options saved in your smart phone! FreeImages.com/Rotorhead.
Feeling Peachy In No Time

The post operative combination of medications after your breast augmentation surgery can lead to you having constipation (I know, no one wants to talk about this) but you will be thankful later. Canned peaches, white grape juice or a high fiber based laxative like Metamucil will help alleviate this issue. FreeImages.com/Ecilaecila.
Bra
Ladies, we all know there's nothing better than coming home and taking off your bra after a long day. I'm here to burst your bubble. After surgery your girls should be kept in the sports bra that your doctor provides you for the first month. After a month or two it is okay to wear sports bras of your choice as long as it supports you and doesn't have underwire. After 6 months you should get the OK to go bra shopping and pick out the pretty bras that you've been itching to wear, until then, hold tight!
Ice ice baby
Have your ice packs ready (in an easy to reach place) in the freezer so when you get home they will be good and cold. Get 4 so you can use two at time and swap the room temperature ones out with the cold ones. The more flexible the ice pack the better so that you can form it to ice all areas and not just the top or side. Be sure to keep them on for 20 minutes on and 20 minutes off.
Comfortable Clothing
When you come home from your breast augmentation surgery you won't want to be pulling anything over your head. Wear a button up loose fitting shirt to the surgery and easy to put on shorts (it's okay if you look like you roam the streets for a couple weeks). Stock up on your boyfriend/husbands big button up shirts or go buy some soft comfy flannel ones!
Arnica Montana
No, I'm not instructing you to move to Montana! Arnica Montana is a pill that will help tremendously with bruising. It can be hard to find so get this ahead of time, it can usually be found in most drug stores or on Amazon for a cheaper price!
Please call 817-473-2120 or email appointments@bisharamd.com to come in for your personalized breast augmentation consultation with Dr. A. Bishara, M.D., P.A. and The Paragon Plastic Surgery & Med Spa!
https://markbisharamd.com/wp-content/uploads/2018/10/logo-2-300x150.png
0
0
markbisharamd
https://markbisharamd.com/wp-content/uploads/2018/10/logo-2-300x150.png
markbisharamd
2015-09-29 09:35:03
2015-09-29 09:35:03
12 Things To Do BEFORE Breast Augmentation Surgery!