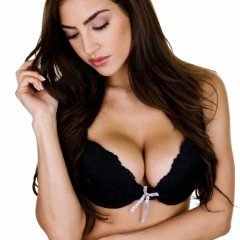 Why Breast Augmentation?
Breast augmentation is done to enlarge breasts that are naturally small, to restore breast size and shape after pregnancy, weight loss or breast feeding and to:
restore symmetry if the breasts are not asymmetrical

restore the breast after the patient underwent breast cancer or some other condition that affected the breast size and shape.
Breast augmentation can benefit you. There are a few decisions one must make with the help Dr. Mark A. Bishara, M.D. P.A. to have this procedure done.
Self-Esteem Boost
Typically women experience a significant boost in their overall self-esteem and how they feel about themselves sexually and towards their partners. According to an article published in Plastic and Reconstructive Surgery, 98% of women who underwent breast augmentation surgery said that the results met their expectations. In addition to this women also reported that they had improvement in overall quality of life after the procedure. This research makes all too much sense, when a woman isn't happy with her body, and is forced to live with it day in and day out, once she gets the issue resolved it is a whole new beginning and chapter in her life. Her loved ones can enjoy her more now than ever as well. The common saying, "happy wife, happy life" rings true.
Statistics
In one study, 225  women that underwent breast augmentation surgery reported   that they were back to normal within 25 days of their surgery date.
85% said that their new breast size was "just right"

13% said a larger size would have been better

Less than 2% would have preferred a smaller size.
These findings support a general tendency to go a little larger …especially if you are going back and forth between two sizes you more than likely will be pleased to have gone up in size than down. We hear this all too often that women wish this would've gone bigger and rarely hear it the other way around.
1% were not happy with their scars.

75% thought that their breast firmness was "just right"

98% said their results met with their expectations.
The key words here are "met with their expectations" its just as important if not more to have realistic expectations for your breast augmentation surgery. In our edited and photoshopped society we live in it is important to keep those facts in mind when imaging your end result. It's perfectly normal to expect great looking breasts just not perfect in every aspect like some pictures would lead us to believe.
According to the American Society of Plastic Surgery, there were  286,000 breast augmentations procedures in the USA in 2014. Breast augmentation was also named One of The Top 5 Cosmetic Surgical Procedures in 2014. There is no doubt in anyone's mind that women getting breast augmentations are growing rapidly and becoming more and more common.
What are breast implants
A breast implant is placed inside the breast to reshape or reconstruct the physical form of the breast. The implant allows surgeons to create an entirely different breast than the one we are born with and aim for the shape and size that will make the patient and surgeon happy with their end result. The outer layer of the breast implant is made of firm silicone. The inside of the implant is where the different options come from, they can either be filled with salt water (saline solution) or silicone gel. At The Paragon Plastic Surgery and Med Spa we are proud to offer patients the option of silicone gel-filled breast implants, since they are much softer and feel more natural than saline-filled breast implants.The makers of these breast implants say that a standard amount of time that their safe to be in the body is 10 years give or take.
Incision Types
Dr. Mark A. Bishara, M.D. P.A. makes incisions in inconspicuous places on or around the breast to minimize scar visibility. The incisions may be located in three different places. First, in the armpit (transaxillary) this incision is one of the newer ones offered by surgeons and has given great results. Second, the crease on the underside of the breast (inframammary) no one will be able to see this unless they are right underneath you and even then it is hard to notice once the patient is fully recovered and the incisions are completely healed. Lastly, around the areola (periareolar) the dark skin around the nipple.
Placement Options
The first option is having a Submuscular placement of the breast implant, this means that the implant would be underneath the pectoral muscle. The recovery time from this placement may be a little bit longer than above because it is going under a muscle that hasn't had anything underneath it. If this is your second time getting implants underneath the muscle then it shouldn't be too much of a difference. Placing the implant underneath the muscle gives the breast a more natural look, reduced risk of capsular contracture (post-operative tightening around the implant) and less interference with mammogram examinations. The other option is a Subglandular placement which is behind the breast tissue but over the pectoral muscle.
Before / After Photo
Please visit our website for more Before / After Photos and information on Breast Augmentation Surgery.
Give us a Call: 817-473-2120 or Email: Appointments@markbisharamd.com to schedule a consultation today!
https://markbisharamd.com/wp-content/uploads/2018/10/logo-2-300x150.png
0
0
markbisharamd
https://markbisharamd.com/wp-content/uploads/2018/10/logo-2-300x150.png
markbisharamd
2015-09-11 14:16:10
2015-09-11 14:16:10
Breast Augmentation Answers